The next EuroMillions Superdraw will take place on 30 September and excitement is growing all around the world. For the first time, the starting jackpot will be €130 million, and this massive jackpot may grow much larger. The last Superdraw took place on 20 November 2015 and rolled over until a player from Portugal took home the entire €163,553,041 jackpot.
What Is a EuroMillions Superdraw?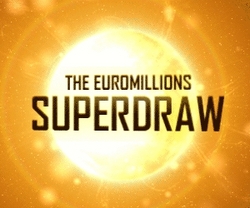 A EuroMillions Superdraw is very similar to the twice-weekly EuroMillions draw with the big difference being the starting guaranteed jackpot. The regular EuroMillions guaranteed jackpot is €15 million.
The upcoming September Superdraw is the first special EuroMillions draw of 2016, while three took place in 2015. Superdraws can be announced at any time but normally take place to mark anniversaries or special occasions. Superdraws operate according to the same rules as the regular EuroMillions drawings with the only difference being the size of the guaranteed starting jackpot.
The maximum jackpot in a Superdraw is €190 million. Once the jackpot cap has been reached, the jackpot can only rollover once more. After that, the jackpot money will be awarded to the player(s) in the highest prize tier in which at least one ticketholder wins a prize.
How to Win
To win the EuroMillions Superdraw all you have to do is correctly match all five main numbers and both of the Lucky Stars additional numbers. The upcoming draw will be held in Paris and as the date of the drawing is fast approaching, it's time to buy your EuroMillions Superdraw tickets online.
Previous Winners
Players from Portugal claimed the biggest EuroMillions Superdraw jackpots in 2015. A Portuguese ticket holder matched the five main numbers as well as the two Lucky Stars to win the €100 million jackpot on 6 March. The winner of the drawing held in November won the €163 million jackpot while the winner of the jackpot draw on 6 June was from the UK. The anonymous winner took home a prize of €100 million (£93,388,943).
Three EuroMillions Superdraws were held in 2014 as well. The first one, staged in March, rolled over twice until it reached £107 million. The winner was announced as Neil Trotter from the UK. The second Superdraw of 2014 actually did not take place! It was superseded by the regular EuroMillions drawing which had rolled over until a Spanish ticket player claimed a prize of €137 million in June. The third drawing of 2014 was held in October. Its jackpot rolled over six times until a ticketholder from Portugal claimed the maximum prize of €190 million.
The Bottom Line
The only way you can win the September 2016 EuroMillions Superdraw is by playing the game. Buy your Superdraw tickets online!